Game Coins/ Slot Machine Tokens
Customized game tokens for your game center!
There are various materials applied for game coins such as iron, stainless steel, brass, copper & zinc alloy, according to customers' budget and electroplating request, we will choose or suggest the best metal for your designed game coins. All the designs on both sides can be 2D flat or 3D relief and motifs are formed by die struck or cast. We are equipped round tooling molds from 20 to 40mm dia., other sizes and shapes are feasible as well. Finishing colors can be varied by request, from fake gold, nickel, bronze to various antique finishing, we will complete the job precisely.

We are also specialized manufacturing bi-coin, a coin jointed with two different metals to create unique two tone finishing, bi-metallic token coin is a best way to avoid fraud. With complete facilities in our factory, we are confident to make the perfect custom token for you.
Specifications
Material: Iron, 215 stainless, zinc alloy, yellow brass, red copper and more
Custom Logos: Formed by die struck or casted
Existing Tooling Size: Ranging from dia. 20mm to 40mm; other shapes and sizes are available by request.
MOQ: 3000pcs per design
Plating: Nickel, gold, bronze, red copper and so on
Iron Made Game Coins
The most common material applied for game coins, lower cost and available for various finishing, including fake gold/ nickel plated, antique finishing, relief mold style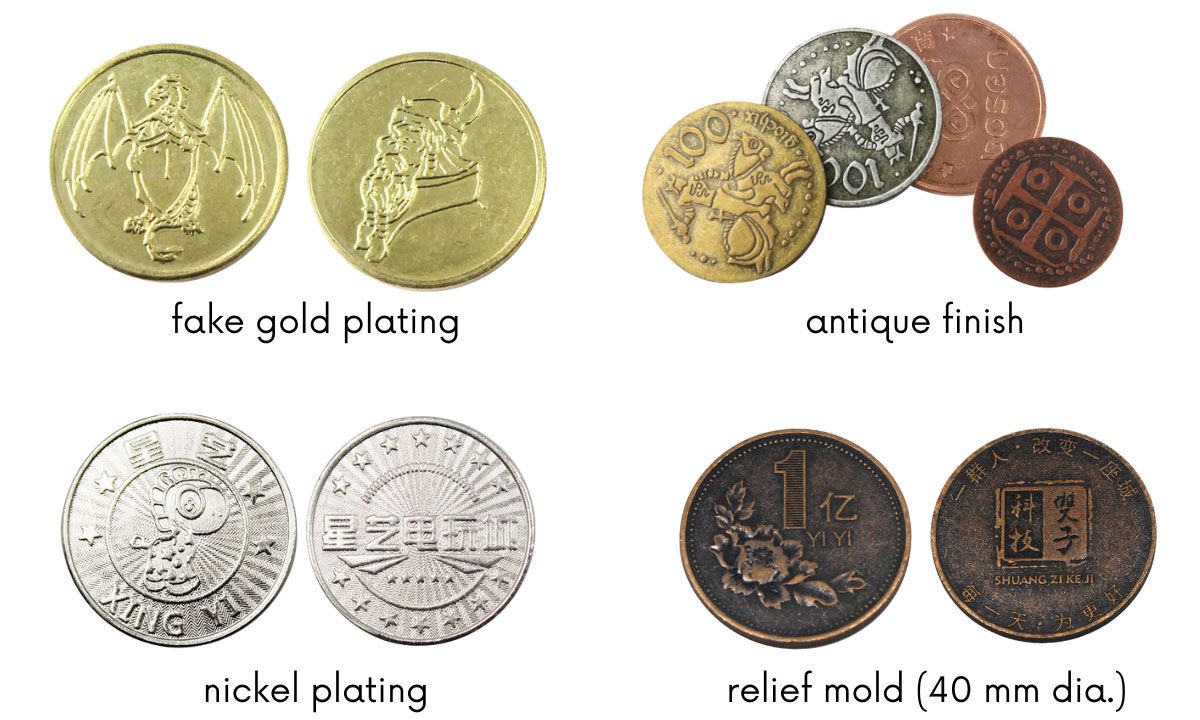 Stainless Steel 215 Game Tokens
Stainless steel 215 is the second most common & popular material of game token coins after Iron.

Zinc Alloy Casino Game Coins
Made by spin-casting, perfect for the design with hole.

Bi-metallic casino slot machine tokens
Casino tokens used in slot machines often represent significant monetary values, therefore special made bimetallic game tokens are playing an important role to avoid fraud.

Brass Card Board Game Coins
Yellow brass and red copper are also commonly used as arcade token coins

Product Video