Electroplating Chart for Metal
Electroplating Chart for Custom Lapel Pins & Medals
Electroplating chart saves a lot of troubles and mistakes caused by finishing, perfect for brass lapel pins, medals, emblems and so on. This chart covers 90% of our finishing. The colors shown on the screen might be different from the real electronic plating colors, also the same finishing of different designs won't be the same, depends on the level of cubic, some colors are brighter while others are darker.
---
A Comprehensive Electronic Plating Chart for Customizable Options
The Electronic Plating Chart for Pins & Medals provides a comprehensive reference for different plating options available for custom pins and medals. It outlines the various plating materials and finishes that can be applied to enhance the appearance and durability of these items.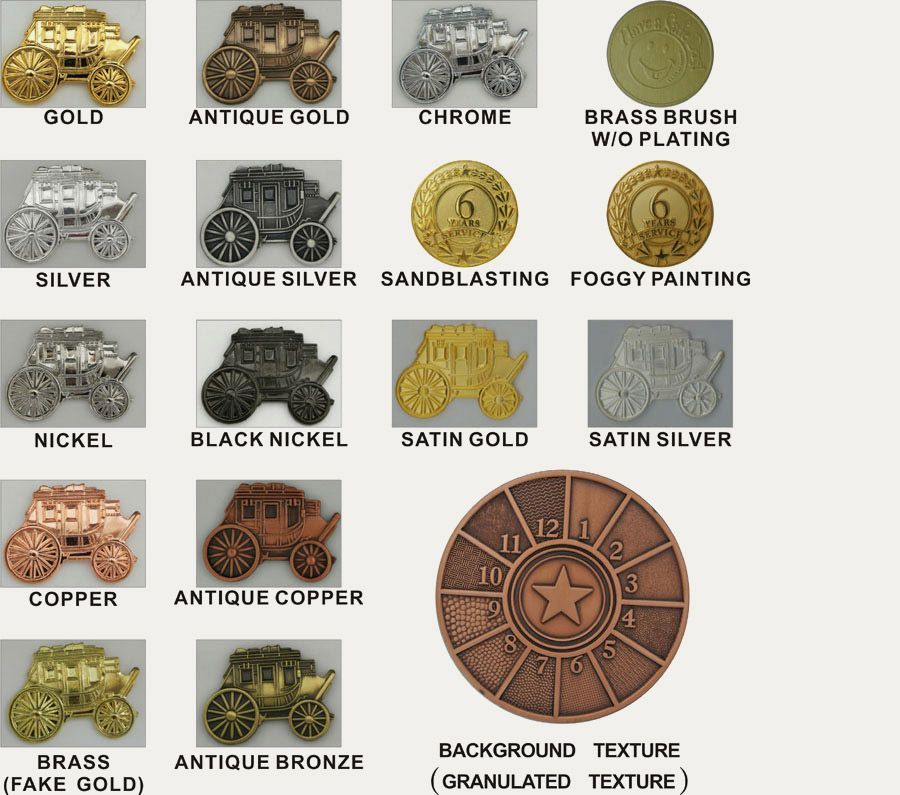 Introducing the Electroplating Chart Video
Plating and Coatings Chart - Almost any lapel pin can be plated with precious metals like gold, silver, nickel, copper, brass, black nickel, chrome, etched brass brush treatment w/o plating, etched brass sandy background gold plating, antique gold, antique silver, antique copper, antique bronze, satin gold, satin silver, gold with sandblasting and gold with foggy painting.