Save the Planet Medallions with UV Printing
UV Printed Medals with Endangered Wild Animal
Ultraviolet printing or UV printing is definitely the top choice when it comes to environmental concerns. Because the evaporation that is produced during conventional printing is minimized by using a photomechanical process to cure the ink, far fewer emissions of the evaporation are let into the environment. And unlike conventional printing, UV printing can be done on various materials and surfaces while keeping the vibrant and gradient printing qualities.
Specifications
Material: Zinc Alloy
Mold: one-sided 3D
Size: 2.5" dia (loop not included); 3mm thickness
Finish: shiny or matte with full polish
Printing: ultraviolet (UV) printing
Attachment: heat transfer printed ribbon (900x25mm)
Save the Planet Medals Feature Polar Bear and Sea Turtle
In the latest public service medal designs by Jin Sheu, one can easily be taken away by the vivid depictions of the wild animals and the beautiful 3D relief that our factory is able to achieve. The medal has become a piece of art without any color already. You might think this is pretty much how the medal looks like in the end. Just think again, with UV printing, the transformation happens instantly!

How Does A UV Printer Work?
To enamel fill the medal with colors, those areas usually need to be recessed with metal holding lines around them. However, our proficient experts are able to UV print the medals with a quickly dried high-adhesion ink layer. The adhesion allows the ink to stay on curved surfaces so that we are able to color cubic or recessed areas and the results are colorful and brilliant as seem to instill a new life into the medal.

The Advantages with UV Printing
There is no doubt that UV printing is becoming increasingly popular with race medals, sports medals, custom medals or virtual race medals. This technique is just right for you if you have a rush job. UV printing will be the best choice when environmental impact is a concern for your customers. UV printing is the perfect approach if your design does not have a flat surface for conventional printing or no recessed areas for enamel color fill. Different color schemes on the same medal can be easily achieved to provide extra options for your customers.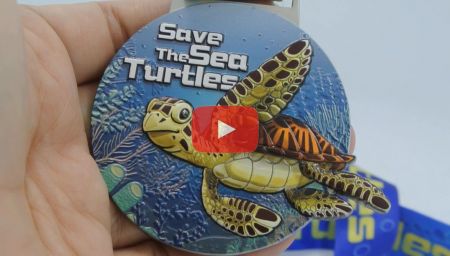 Versatile UV printing with one single mold
UV printing prints in high speed and therefore productive, it is versatile in printing materials and high in quality, utilizes eco solvent and more friendly to the environment. Economical is one of the many advantages and it is profitable to you. You can create many different color schemes on shiny or matte finishes with the same mold.