Key Milestones
100% Customer Satisfaction Guarantee- Jin Sheu Enterprise Co., Ltd.
Established in 1984 in Taiwan, Jin Sheu Enterprise Co., Ltd. started out as a metal souvenir manufacturer offering custom services to customers worldwide. By supplying quality metal souvenir products to major cities and tourist attractions around the world, we help travelers to embellish their trips and cherish their sweet memories to compose never-ending dreams.
With meticulous metal craftsmanship, we produce police and military badges and medal of honors for countries all over the world. Jin Sheu surpasses our competitors especially in high-end challenge coins; police badges and military emblems, we never fail customers' requirements.
---
Business Growth and Managerial Capacity
In 1991, Jin Sheu had only 2 staff members in Taipei; today we hire over 140 employees in our Taipei office. Our pleasant office environment and well-planned incentive systems have motivated one another to strive and thrive. More than 60% of our workers have been with Jin Sheu for over 10 years. A virtuous cycle was created in our positive working environment and the loyalty of our staff has therefore been established.
Create your own best-selling products
We are an OEM manufacturer providing high quality products with competitive prices! Based on different requirements from our customers, we are able to customize designs and packaging details to meet various needs. Our full lines of products are custom metal products, promotional lanyards, embroidery products, woven patches, soft PVC products, silicone products, neoprene promotional products, acrylic promotional products, mobile phone accessories, USB flash drives, wooden products, felt fabric application, wedding gifts & favors...etc. Please send the detailed specifications, quantity and designs for us, we will advise the best price during our working hours.
Jin Sheu produces custom Olympic merchandises
After being authorized as a quality supplier in 1988, we have never been absent in Olympic Games. Together, we have celebrated the sporting events with the well-known brands from all over the world. We have created the classic commemorative products through the state of the art craftsmanship and latest technology.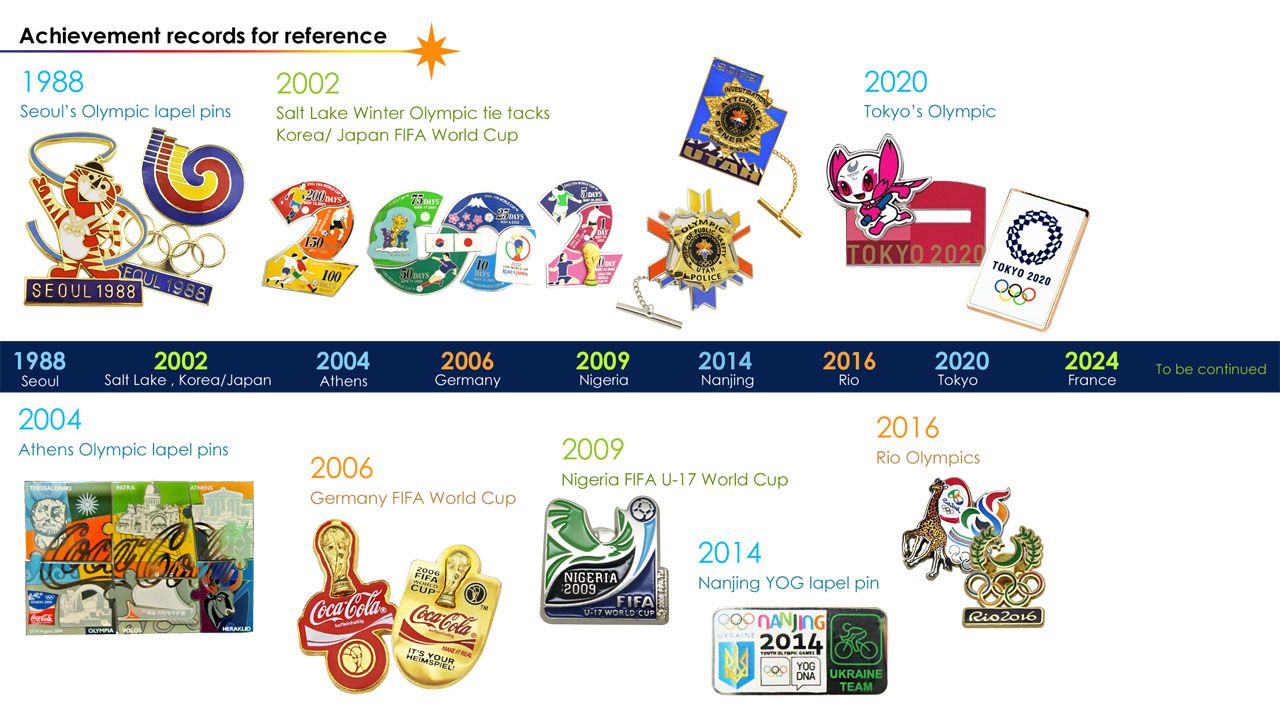 1984
Punctual Co., Ltd was founded in 1984 in Taiwan. Specializes in various processes of lapel pins, Punctual Co. is especially well known for their top quality hard enamel pins. Punctual Co. serves local trading companies and domestic markets for years but was downsized in 1994 because our Dongguan Jian was set up and has taken over the majority of the manufacturing jobs. Punctual Co. has focused on local (Taiwan) markets ever since.
1991
Jin Sheu Enterprise was founded in 1991 and has been serving the export and trading business worldwide. With the wholeheartedly support from Punctual Co. in the first few years and Dongguan JIAN in the latter years, Jin Sheu has earned a good reputation for producing custom badges, emblems, embroidery patches, lanyards, soft PVCs and silicone items. With the purchasing department established in Dongguan, our product lines have expanded greatly to much more diversified promotional items.
1994
Dongguan JIAN Plastic and Metal Products, Ltd. was established in China to increase our production capacity. JIAN specializes in manufacturing metal products such as pins, key chains and other emblem products. The manufacturing processes include die stamping, photo etching, printing, die casting & spin casting. Our satisfied customers are pleased with our superior quality, prompt delivery and efficient service as well as reasonable pricing.
1994
BONJET INT'L was established in H.K. to handle all the goods shipped from Mainland China. The warehouse is located in Shatin New Territory and the office situated in Kowloon. Bonjet also helps to export JIAN's products to our customers all over the world.
2001
CRAFTART EMBROIDERY, our 2nd factory, was founded in Mainland China in order to meet customers' requirements on fierce price competition for embroidery products. With 26 years of production experience in Taiwan, we believe by moving the factory to China, we are able to provide better service and it is beneficial to all our customers.
Why not work with us?
Jin Sheu Enterprise Co., Ltd. has been offering professional service, superior quality, fast delivery and follow-up service for each business transaction. We integrate all the products manufactured in the same location which include lapel pins, key chains, medals, coins, belt buckles, souvenirs made of zinc alloy or pewter, embroidered patches and lanyards.
It's our responsibility to offer top notch service.
Over the past three decades or so, we have spared no effort to foster a green corporate culture, fulfill corporate social responsibility, uphold the value of traditional craftsmanship and maintain environmental sustainability. All materials have been tested to comply with the EU and US environmental requirements and have passed CSR certification. The perfect combination of craftsmanship and automation save labor cost and improve productivity. With our exquisite craftsmanship and experience accumulated over the years, we offer professional recommendations which represent your design perfectly.
2021, Jin Sheu in Taipei
Under the leadership of Mr. Sheu, Jin Sheu has expanded into an international enterprise serving more than 10,000 customers from 172 countries across the five continents. In 2021, Jin Sheu is entering the 30th year in business as one of the top suppliers in custom metal coins & lapel pins and promotional souvenir products.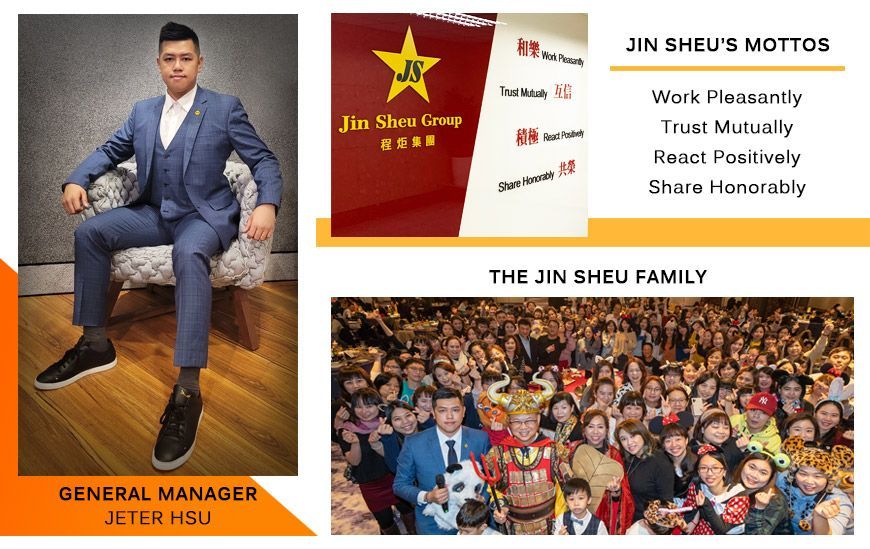 Jeter Hsu joined Jin Sheu in 2013 and was promoted as general manager in 2017. Jeter introduces a new sales operating platform to Jin Sheu Group to replace the obsolete ERP system. He also helps to integrate different demands from customers, factories and sales ends to ensure a more productive communication. He envisions a more efficient and customized service for our clients by digitalizing our service operation comprehensively in the next few years.
Taipei showroom
Jin Sheu has overcome many rough times and stood together with our customers on the challenges of financial crisis and fighting COVID-19. The path to where we are now has never been easy but we will keep standing behind our staff and customers and showing the continuous support as always. Jin Sheu is ready to take on the next 30 years with what Mr. Sheu has started!

Download

Production Capacity

Five-Continents Marketing

Our custom products are distributed worldwide. Global buyers from more than 146+ countries. Highest productivity, up to a monthly average of 10 million pieces realizes creativity in an instant.

Serve the world's 500 powerful brands at the same time

The largest metal gift manufacturer of the world. We can handle large volume orders.The most professional technology makes our products comparable to museum collectibles.

Quality control

Material Requirement Planning

Well-planned and efficient production management with MRP allows us to reach our customers, and control our inventory and production. Strictly controlled integrated production management, from order acceptance to product completion through vertical integration. Advanced scheduling control ensures flawless manufacture to smooth delivery through the most efficient operations.

Social Responsibility

Green labeled factory

Electroplating License from China government and build sewage treatment plant. To protect the environment, we utilize laboratory-grade wastewater treatment equipment and have passed the Green Factory Mark certification for zero wastewater discharge according to the Dongguan City Environmental Protection Bureau.

All types of CSR certification

Environmental protection, Social responsibility, Good working environment. Our employees are backed by a friendly working environment with comprehensive insurance.

Electroplating License from China government and build sewage treatment plant

Raw materials meet standards of lead content regulated by CPSIA

Passed audits and acquires authorization from famous brands such as Disney, NBC, Universal Studio, Polo Ralph Lauren, Bureau Veritas, Starbucks and McDonald's.

Company Video