Transparent colors with silkscreen printing or digital printing
2019/11/20
Imitation hard enamel colors can be solid, translucent as well as transparent, and we are glad to introduce our new technique for your reference. It is transparent enamel color with silkscreen printing or digital printing. Printing can be made either from front side or backside, depends on the 2D or 3D of your logo design. For more details, please check Metal ProductsApplication Of Transparent Imitation Hard Enamel Colors.

Jin Sheu Enterprise keeps researching and developing new techniques or new application, once we have done it successfully, willingly share it with our customers.
Applicable metal material is zinc alloy
Customized sizes and shapes acceptable only.
Various finishing & fitting are available.
MOQ 100pcs per design
Promotional Video
3D Cubic Design Transparent Enamel pendant
2D Flat Design Transparent Enamel SDGs Keychains
Artwork Guide
Please offer us the detailed spec. and Q'ty and photo, we do appreciate your help, and we'd advise the best price during our working time.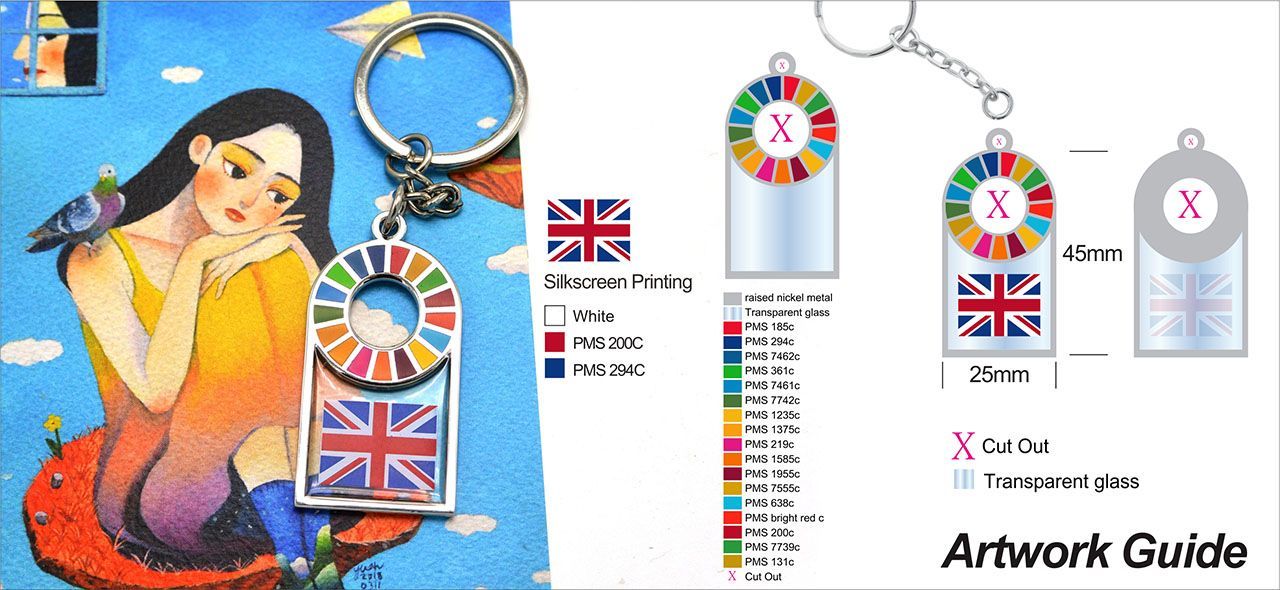 Leaflet

Photo Gallery

Related Items

PID: 6381

---

This SDGs key chain is made of zinc ally with solid imitation hard enamel colors as well as transparent imitation hard enamel color, flag designs are silkscreen printing made on transparent color directly. Because it is 2D flat design, colors can be printed from front side. For your better understanding, transparent color is filled in empty space, there is no metal base as support, so it takes time to fill transparent color and waiting it dry. We expect you can generate some key chains with transparent imitation hard enamel color and with silkscreen printing as well.

---

PID: 6382

---

This 3D cubic Pendant is made of zinc alloy material with transparent imitation hard enamel color filled in the frame and digital printing completed from back side. Because front side is cubic, printing must be done from back side. This is our factory's design just to demon the effect of transparent color plus digital printing. If you have specific design require offset printing or digital printing, you can use transparent as background. Looking forward to receiving your creative designs.

---

---

Downloads

---