Giant Commemorative CHAMPIONSHIP RING Paperweight
2021/5/18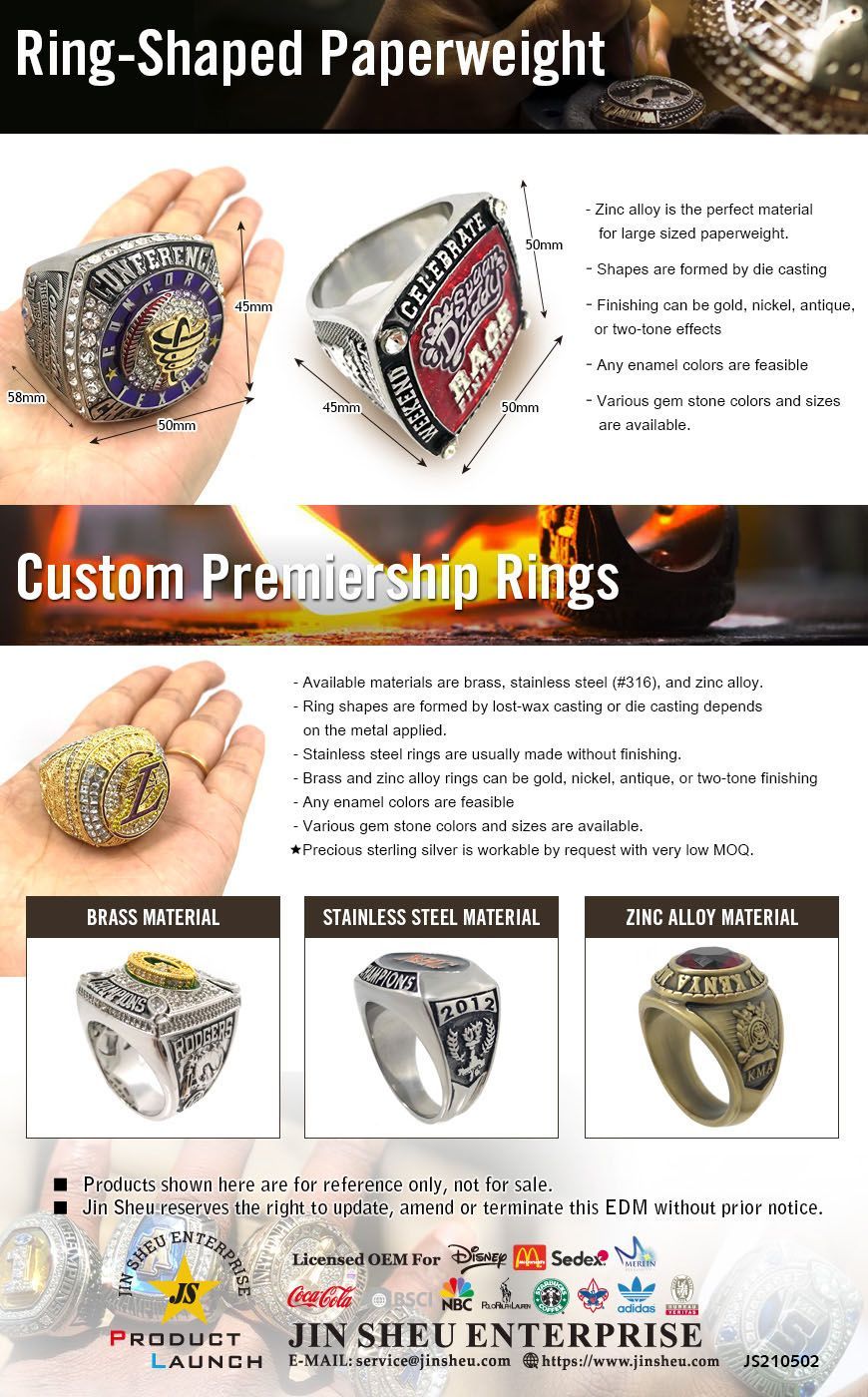 Customized Sports Ring Paperweights for Your Favorite Team. They can be personalized in brass, stainless steel, zinc alloy or even in sterling silver. Jin Sheu's team of experts is here to help you with the perfect design.
Jin Sheu specializes in giant-sized CHAMPIONSHIP RING Paperweights and we are able to enlarge the ring of your favorite team to the size you want and duplicate the details exactly. The paperweight can be filled with soft enamel colors with rhinestones embedded. Gold, silver, or two-toned metal colors are available to fulfill your various needs. Made exclusively for your team and to keep your memories alive. One of the greatest gifts for any sports fan. High quality custom championship ring paperweights are suitable for all types of sports, soccer, basketball, fantasy football and you name it! Present these paperweights to your number one teams as trophies too!
Specifications
Zinc alloy is the perfect material for large sized paperweight.
Shapes are formed by die casting
Finishing can be gold, nickel, antique, or two-tone effects
Any enamel colors are feasible
Various gem stone colors and sizes are available.
Replica Championship Ring Paperweights
These large size sports ring paperweights are definitely eye catching when you have one of these on your desktop or in the display case. The best material for ring paperweight is zinc alloy, a flexible material that is great to work with large size, gemstones, enamel colors, as well as various finishing colors. The most appealing characteristic is the competitive unit price and mold charge. Brass material is also available for Ring Paperweights, however, brass is more expensive than zinc alloy. And the larger the size is the more pricy it gets. In addition, brass paperweights are created by the lost-wax casting process which takes a longer production time compared with die casting zinc alloy process.
Custom Premiership Rings
Jin Sheu is experienced in manufacturing championship rings as we are constantly striving to improve ourselves to create beautiful rings that symbolize the spirits of the sports team or the honor of special achievements. Our craftsmanship in manufacturing high valued championship rings is your best choice. Let us help you commemorate your special Achievement with our custom championship rings.
•Available materials are brass, stainless steel (#316), and zinc alloy.
•Ring shapes are formed by lost-wax casting or die casting depends on the metal applied.
•Stainless steel rings are usually made without finishing
•Brass and sterling silver rings can be gold, nickel, antique, or two-tone finishing
•Any enamel colors are feasible
•Various gem stone colors and sizes are available.
★ Precious sterling silver is workable by request with very low MOQ.
Promotional Video
premium quality championship ring
Related Items

---

Downloads

---