---
Best Sale
Jin Sheu Zinc Alloy Introduction
Jin Sheu Enterprise Co., Ltd. is Taiwan, China supplier and manufacturer in Gift and Premiums Industry. Jin Sheu has been offering our customers high quality Metal Emblems, Pin Badges, Metal Key Chains, Medals, Challenge Coins, Police Badge, Car Emblems, Belt Buckles, Promotional Lanyard, Embroidery Patches since 1984. With both advanced technology and 31 years experience, Jin Sheu always make sure to meet each customer's demand.
Jin Sheu welcome you to view our high quality products
Lanyard
,
Patches
,
Emblem
,
Pin Badge
,
Key Chains
,
Medal
,
Coin
,
Badge
,
Buckle
,
Challenge Coins
,
Badge
,
Emblems
,
Belt Buckles
,
Embroidery Patches
and feel free to
Contact Us
.
Zinc Alloy
Zinc alloy is an excellent material for 2D or 3D cubic designs that have empty spaces within or for miniature-sized designs with mechanical functions such as moving and spinning pieces.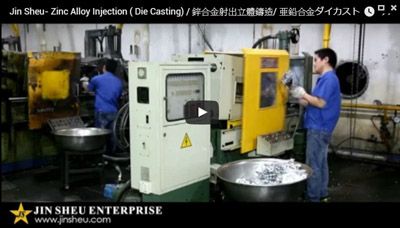 Zinc Alloy Injection (Die Casting)
Zinc alloy is in liquid stage in this procedure, so it can be propelled by injection. It's perfect material for making custom medals, lapel pins, keychains etc. which are in 3D/ full cubic or in large size. Zinc alloy also optimal for emblems with empty spaces within. The finished products are always smooth and shiny without too much polishing.
---