Leather Tissue Box Holder
There are various existing leather tissue cover box models for you to choose from.
The leather tissue holder not only brightens up your space, but this tissue box is as easy to use as they come. Our leather holders are suitable for standard-size tissue boxes on the market. They are ideal for offices, hotels, or even home uses, as it brings a subtle touch of elegance to your interior decoration, instantly elevating your room with a pop of color. Our tissue holder cases are made of PU leather. They are waterproof and easy to maintain. The surface is smooth and resistant to dirt. Stains come off easily using a damp cloth.

We provide both soft and hard case tissue boxes, and they do not get deformed or damaged easily and will not dent the floor if dropped. There are various existing leather tissue cover box models for you to choose from, and each type allows custom logos/ brands debossed screen printed, or hot foil stamping. You are welcome to customize a new-shaped leather tissue box with your logos/brands expressed.
Specifications
Material: PU leather
Size and Shapes: Customizable or choose our existing shapes.
Custom Logo: Debossed, screen printed, or hot foil stamping
Leather Colors: Multiple choices from our existing stock colors, PMS colors are available with MOQ requirements.
Hard case or soft leather tissue box covers?
If you have a hard time making a decision on which type of tissue box cover to order, here are some tips for you. The soft leather tissue box covers with button closure are easy to assemble and more suitable for household and restaurant accessories. Our customers often thought they emit a relaxing and playful atmosphere. The hard case tissue box covers with magnetic closure are durable and more suitable for public space such as offices, exhibitions, or museums. The other advantage to consider is that the soft and foldable tissue boxes take up far less space than the hard case tissue boxes. They can be folded flat and stacked up which will save more on the shipping costs.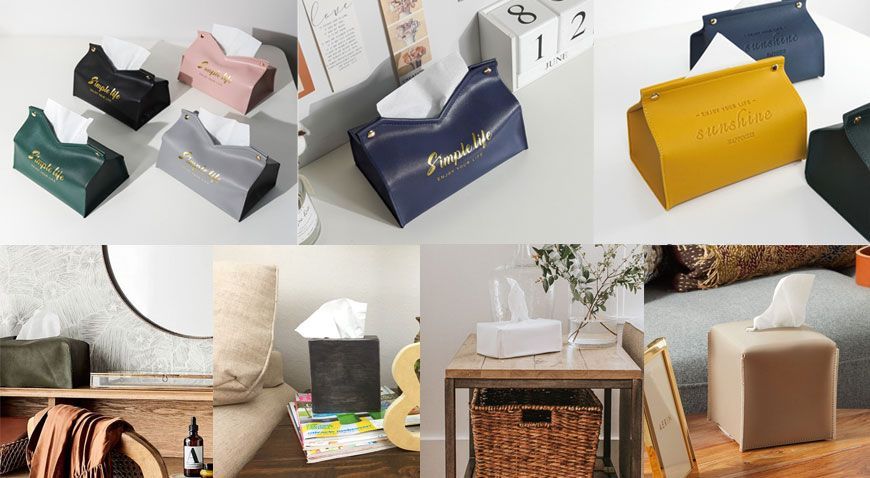 The Economical Way and Save Your Mold Fee!
We have various open-design leather tissue holder models for options. Kindly check the collection leaflet below, if you need more information, please feel free to contact us directly through service@jinsheu.com, or just fill out the inquiry form below, our sales rep. will contact you as soon as possible!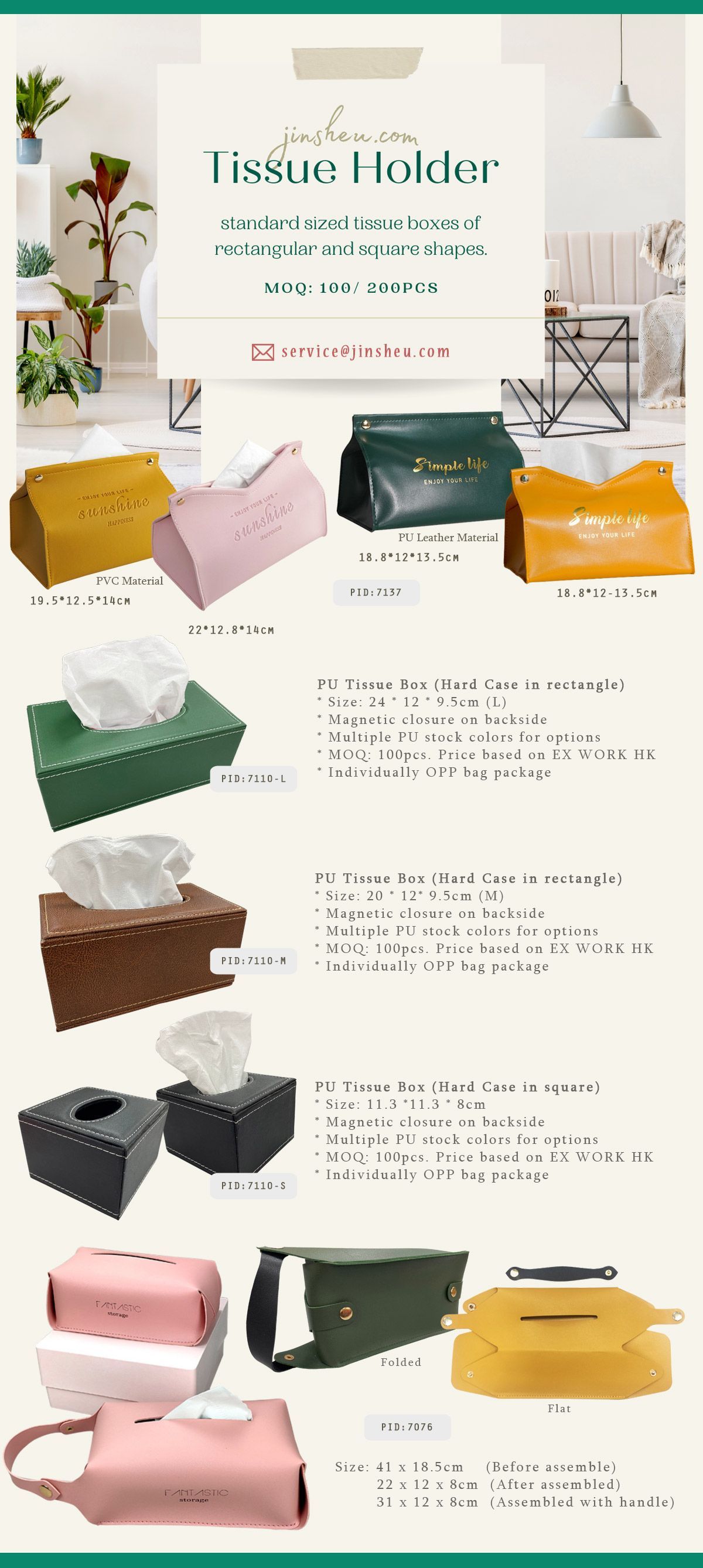 Photo Gallery