3D Creative Visualization Acrylic Night Lamp
Custom Shape & Custom Logo Engraved
Unique lighting effects in 2D with 3D visual impact! Custom design is laser engraved on high quality acrylic panel and laser cut to shape according to the design. The acrylic panel is inserted to an ABS base and illuminated by the LED light in the base. Your branded logo can be printed or laser engraved on the ABS base. It is energy efficient with LED light bulb. Great to use as decorative lighting in bedrooms, cafes, restaurants, bars.

There are three different power switches to choose from. The rocker switch offers 2 different color combinations for lighting (white/natural/warm or blue/red/purple). With the smart touch control, you get 7 different options for lighting colors. To get the ultimate experience, choose this power switch that includes both smart touch and remote control with 16 different lighting color options. Light up the lamp and see how the atmosphere changed instantly!
Specifications
Material: ABS base and 3~4mm thick transparent acrylic
LOGO: Custom laser engraved on transparent acrylic
MOQ: 100PCS per design and shape of acrylic panel
ABS Base: Around 100mm dia x 40mm H. with black and white colors available for option
ABS Base MOQ: 100pcs for plain base or 500pcs per custom logo printed or laser
Three types of ABS Base: Rocker switch with three different lighting colors; smart touch with 7 lighting colors; smart touch and remote control with 16 different lighting colors.
Standard Packaging: Color printed cardboard box

3D Creative Visualization Night Lamp is composed of an acrylic sheet and an ABS plastic base.
We offer acrylic sheet in custom shape and laser line engraved.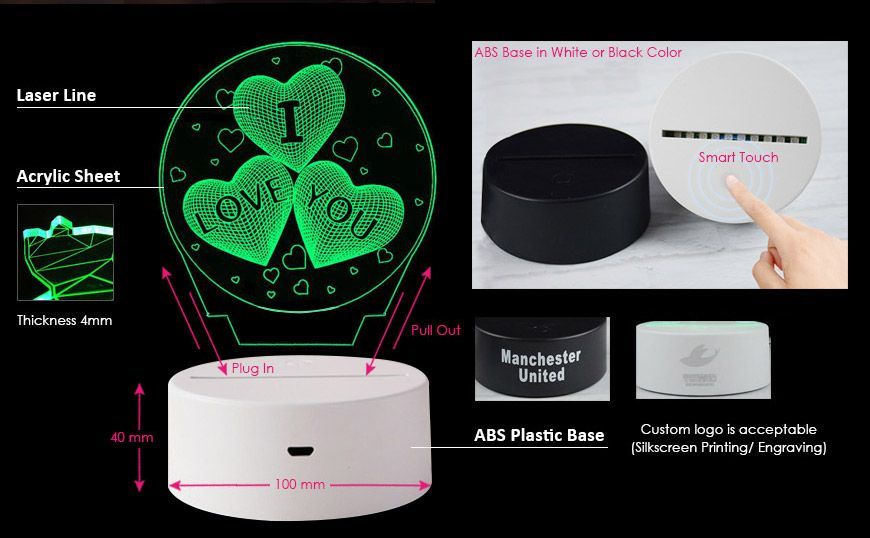 Three types of ABS plastic base for options.
A. Rocker Switch Offers 2 Different Color Combinations for Lighting (white/natural/warm and blue/red/purple)
B. Smart Touch Control Offers 7 Different Options for Lighting Colors
C. Both Smart Touch and Remote Control Are Available with 16 Different Options for Lighting Color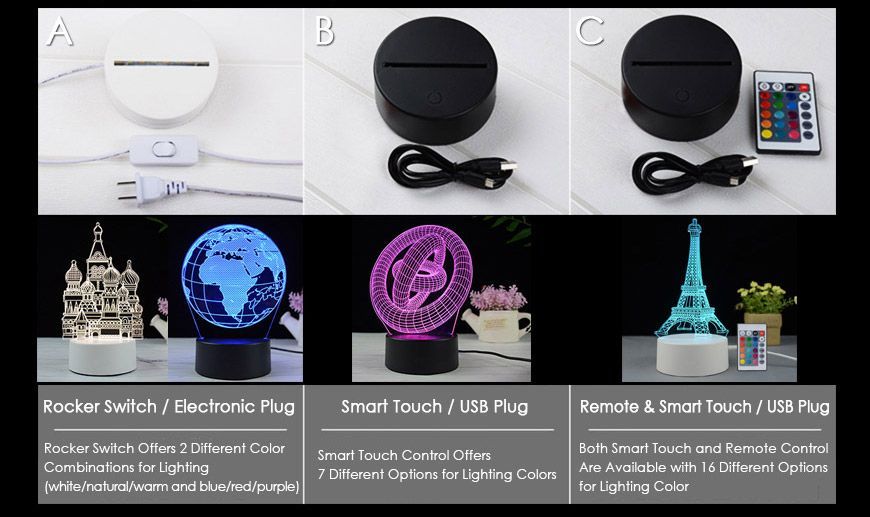 Custom Process
Pictures need to be provided by customers and then proof the artwork. We will complete the final products.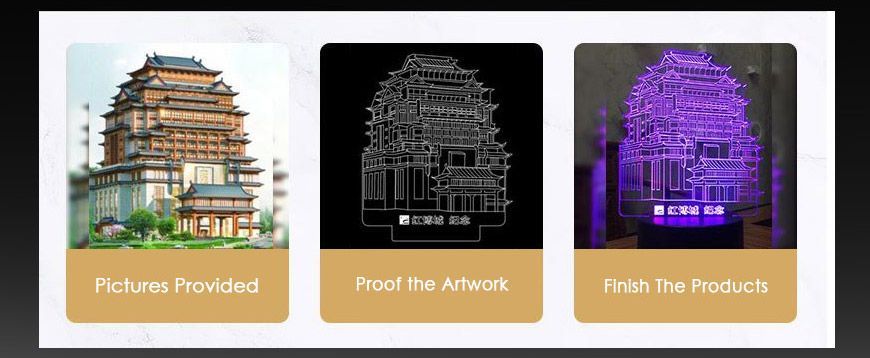 Product Video
3D Creative Visualization LED Night Lamp
Downloads

---